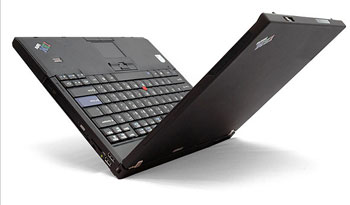 lenovo ThinKPad T500
Intel T9400 Core 2 Duo processor at 2530 MHz

Brilliant 15.4" Wide screen with 1680x1050 resolution

ThinkPad Roll Cage and Shock-Mounted Hard Drive

4GB of DDR3 memory is standard upgradeable to 8GB

160.0GB fast SATA hard disk drive (HDD)

Integrated Mini-PCI modem

integrated Gigabyte 1GB Ethernet connection

integrated wireless A/B/G

DVD burner Combo drive

industry leader Thinkpad T Keyboard

Metal frame and hinges for unparalleled durability

Lithium ion Battery and international power cord

3 USB 2.0, fire wire port and Display port digital video

Refurbished with 3 months warranty

The perfect balance of performance, portability and energy efficiency
Take a load off
You'll want to take your super portable T Series notebook everywhere. And as the thinnest, lightest T Series ever, starting at just 3.91 pounds and .83 inches thin, you can—without compromising display size or power.

Work longer with energy-saving features
New T Series laptops increase energy efficiency by more than 25% over previous T Series models, extending battery life and increasing your mobile computing time—a life saver for on-the-go pros:
Lenovo Battery Stretch lets you make temporary selections in extreme situations to extend battery life.
Switchable graphics lets you move to lower quality graphics when you need to maximize mobile computing time.
Integrated graphics reduce power consumption by using only part of your laptop's RAM.
LCD backlight displays and SSD drives use less battery power and create less heat.
Optical disk drive and audio automatically switch to a low power state when there's no activity.
Green Power Scheme and ThinkPad EnergySaver technology help preserve mobile computing time.
Power to the professionals
Mobility is great, but what about power and performance? T Series has you covered. These portable powerhouses feature the highest-end processors, fastest graphics and durable, reliable data storage. Intel® Turbo Memory and SSDs (on select models) speed boot and application load times.



Processors
Powerful Intel® Core™2 Duo processors
Graphics
ATI Mobility Radeon HD3650 on T500
ATI Mobility Radeon HD3670 on T400
Intel GMA 4500MHD on T400s
Switchable graphics
Integrated graphics
Storage
Up to 250GB 5400rpm hard disk drive
Up to 200GB 7200rpm hard disk drive
Up to 320GB 5400rpm hard disk drive
Up to 64GB solid-state storage drive
Picture-perfect graphics
T Series laptops give you superior graphics performance.

Switchable graphics let you power-up the stunning graphics for important presentations, then power them down to boost battery life and lower energy consumption. And they're easy to use. Just hot-key between Performance and Power Saving graphics modes, or switch via the software user interface. No reboot required!

LED backlit displays are mercury-free and generate 25% brighter displays, boast crisper colors, consume less power and weigh 70 grams less than conventional CCFL displays. Use the wide dimming range to reduce brightness while still experiencing a clear display in dim environments.

DisplayPort video port (available on the ThinkPad T500) lets you attach a high-resolution digital DVI monitor using a DisplayPort connector. Use this next-generation display interface technology for everything from notebooks to monitors to TVs to projectors.
Stay connected
T Series offers several ways to connect for the best wireless performance:
Mobile broadband-ready models let you connect to a mobile broadband network and switch to a different carrier during the life of the system.
Ultra-Wideband Bluetooth capability lets you clear cable clutter and free up your USB ports by using Certified Wireless USB technology. Take advantage of this technology today using a wireless USB hub and in the future as wireless USB devices become available.
WiMAX capability is available to ready your T Series notebook for this emerging long-range wireless broadband technology.
THINKVANTAGE TECHNOLOGY & DESIGN
ThinkVantage Technology and Design Features are distinctive innovations available on IBM Lenovo Thinkpad Notebook. They can Help enhance experience, boost Productivity, increase security and cut support and service cost. Here's a run down of some reasons everyone's next Laptop should be a Thinkpad.
Security
Lenovo's exclusive ThinkVantage® Technologies maximize security and convenience.
Client Security Solution offers an integrated security solution out of the box.
Integrated fingerprint reader enables biometric authentication with the swipe of a finger (on select T Series models).
Intel Anti-Theft protection on the ThinkPad T400 notebook offers an extra layer of security and manageability incorporated with Computrace® Data Protection™ and Intel vPro™ technology.
Intel AT-p lets you activate hardware-based, client-side intelligence to secure your PC and data if it's lost or stolen. The technology is built into the hardware, so it provides a local, tamper-resistant defense that works even if the OS is reimaged, a new hard drive is installed or the laptop is disconnected from the network—for the ultimate in data protection and mobile security.
Additional features
Full-sized, ergonomic keyboard
The comfortable ThinkPad keyboard comes on all T Series laptops, plus T400s models boast minimized key spacing and larger Esc and Delete keys.
Multitouch TouchPad
Zoom, scroll and rotate without lifting a finger—literally—on T400s models.
Trackpoint®
ThinkPad is famous for the little red TrackPoint in the center of the keyboad
7-in-1 Media Card Reader
The ThinkPad T500 features a 7-in-1 media card reader supporting many popular multimedia card formats.
ThinkLight®
A tiny LED in the top edge of the display lights the keyboard so you can keep working, even in the dark.
Combination eSATA/USB 2.0 port
Acts as a USB 2.0 or eSATA port by plugging into either the top or bottom edge on the T400s model
Cool and quiet
A third-generation fan and Adaptive Thermal Technology combine to make the new ThinkPad T Series the coolest and quietest ever.
| | |
| --- | --- |
| SKU | T500-T9400-4-160-12X8-7P-Aminus-3M |
| Available in Showroom | yes |
| Specs | Core2 Duo 2500mhz, 4GB, 160GB, 15.4inch. Wifi, DVDR, win 7 pro |
| Processore | intel Core 2 Duo |
| Processor Model | T9400 |
| CPU Clock Speed | 2.5GHz |
| CPU Turbo Speed | No |
| CPU Benchmark by PassMark | No |
| Color | Black |
| screen size | 15.4 inch wide |
| screen resolution | 1280x800 |
| Graphics | Shared |
| Graphic card model | intel 4500MHD |
| Dedicated Graphics memory | 32mb |
| Memory | 4GB |
| Memory Type | DDR3 |
| Storage | 160GB |
| Hard Drive Type | SATA 7200rpm |
| Optical Drive | DVDRW |
| Optical Drive Type | Internal |
| Wireless Lan | Wireless N |
| Bluetooth | Bluetooth |
| Ports | 1 Express Card Reader, 3 USB 2.0, Audio in/out port, Display Port, Esata, Firewire, Monitor port VGA, SD Card Reader |
| HDMI | display port |
| Keyboard | English US |
| Backlit Keyboard | na |
| Camera | No |
| Security | Security Chip |
| Power Adaptor | international 110 and 220V |
| Battery | 6 Cel |
| Operating System | Windows 7 Pro 64bit |
| Software | Windows 7 Professional 64-bit Edition |
| Weight | 4 - 5 lbs |
| Dimensions | No |
| Condition | Refurbished A Minus |
| Warranty | 3 months (Laptopcloseout) |
| Warranty Type | Parts and Labor excluding battery |
| Warranty Notes | No |
| Package Content | Laptop + Battery + Power cord |
| Resources and Files | No |
| Condition Detail | No |