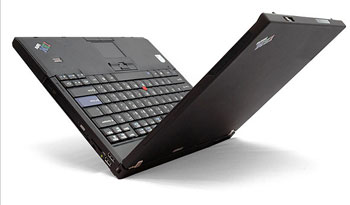 lenovo ThinKPad T61
Intel(R) T7100 Core 2 Duo Centrino technology processor at 1800 MHz featuring Fast 800 MHZ Bus

Brilliant 15.4" Wide screen with 1680x900 resolution

Slick Slim Wide profile

ThinkPad Roll Cage and Shock-Mounted Hard Drive

800 MHz front-side system bus with 667 MHz memory modules

2GB of DDR2 memory is standard upgradeable to 4GB

160.0GB fast SATA hard disk drive (HDD) 4500 rpm

Integrated Mini-PCI V.90 modem

integrated Gigabyte 10/1000 Ethernet LAN connection

integrated wireless A/B/G

CDRW/DVD Combo drive

industry famous Thinkpad T Keyboard, Most Comfortable Keyboard in a laptop

Metal frame and hinges for unparalleled durability

Easy one-button access to information on your system via portals to the Web with the new ThinkPad button

Many optional features to enhance flexibility and function

Advanced system manageability

4Cell Lithium ion Battery

3 USB 2.0 Ports, and fire wire port

Editors' Choice: ThinkPad T61XYZ Computing June 2007

Editors' Choice: ThinkPad T61 PC Magazine May 2007

Editors' Choice: Overall though the ThinkPad T61 does a great job of combining excellent usability features and performance, keeping the T-series well established as the leading portable business notebook NotebookReview.com, May 2007

Editors' Choice: Long story short, this is, perhaps, the nicest laptop I've ever used, and it's chock-full of the technological goodness you'll want to take Windows Vista to the next level." Windows IT Pro, May 2007

ThinkPad T61 technology features include:
NEW super elastic polycarbonate

reinforced top cover for improved durability & thinness

NEW Top Cover Roll Cage

that increases rigidity and reduces stress points

NEW cooling system

, larger vents and more efficient fans that make T61 the coolest and quietest T series model ever

Intel Centrino Pro technology

available for enhanced security and manageability

widescreen

display

Intel® graphics

802.11a/b/g wireless

that connects to all wireless formats
Ultimate business tool
ThinkPad T Series notebooks and mobile workstations offer performance, portability, and low cost of ownership in standard and wide aspect ratio screens.
Starting at 1.1" thin and 2.3 kg.

Available Intel® Centrino Pro technology.
Widescreen Choice

Lenovo gives you more choice — you can configure select T Series models with either 14.1" or 15.4" wide aspect ratio displays.
14.1" WXGA screens on T61 models offer a new, highly mobile widescreen design

Select T60 models are available with 14.1" standard aspect ratio displays

Uncompromised portability


More features and greater performance doesn't have to mean reduced mobility. Our 14.1" widescreen ThinkPad T61 models are lightweight and offer reduced height over standard 14.1" models, making them great for air travelers.

T61 15.4" widescreen models start at 2.67 kg (with 6-cell battery) and 1.2" thin, proving you don't have to sacrifice mobility just because you need a larger screen.
ThinkPad is more than a name; it is superior design for reliability, durability, and security.
HDD Shock Absorber

ThinkVantage™ Active Protection System

Available integrated fingerprint reader

Reinforced Roll Cage design
Optimized for connectivity

T Series notebooks feature up to five built-in communications capabilities: Wi-Fi wireless Bluetooth® technology, Ethernet, 56K modem and wireless broadband access Cutting-edge technology
ThinkPad T61 sports an extensive array of new features and technology, making it an extremely versatile machine:
A new cooling system, larger vents and more efficient fans make T61 the coolest and quietest T Series model ever. And the new Top Cover Roll Cage (14.1" widescreen models) combines with the ThinkPad Roll Cage and Shock-Mounted Hard Drive to provide a new level of strength and durability.
in addition, users needing to squeeze every minute out of their battery will appreciate the new BatteryStretch feature standard on all ThinkPad notebooks.
ExpressCard34/54 or SmartCard reader

New UltraConnect II wireless antenna design improves performance and eliminates external WWAN antenna

New UltraWide Band wireless offers greater performance and range than Bluetooth, in support of future wireless applications like docking, storage, cameras and more

Intel Turbo Memory improves boot time, loads applications faster, and saves power

Mission critical security
All ThinkPad T Series models feature hardware and software security, made possible by the Trusted Platform Module (TPM) and ThinkVantage Client Security Solution. ThinkPad T61 notebooks feature a new 32-byte password, allowing creation of more lengthy and complex passwords for superior pre-boot protection. Full Disc Encryption hard drives are available to provide highly secure protection that is transparent to the user, seamlessly encrypting all data.

With Intel® Centrino Pro and unique ThinkVantage Technologies, ThinkPad T61 notebooks now offer even more ways to manage and reduce total cost of ownership, improve employee productivity, and enhance enterprise IT security.

Something for everyone


The thin and light ThinkPad T61 is designed for highly mobile users who work in an office, on the road or anywhere in between.

With features such as the latest Intel Centrino Pro platform, integrated raphics, and a 14.1" widescreen displays, the ThinkPad T61 is sure to meet most every need.
Get up to 8 hours of battery life
Achieve virtually all-day computing on ThinkPad T61 14.1" widescreen models with the 7-cell system battery plus the optional ThinkPad Ultrabay Battery.
T61 14.1" widescreen models also offer greater, more individual control over battery life with BatteryStretch, a new feature that allows temporary selections in extreme situations to extend battery life beyond what your regular Power Manager settings might produce. With this easy interface, you can, for example, minimize the display refresh rate or disable certain wireless communications devices to help preserve the power you need to finish your work unplugged.
Service and support are always there for you
A range of award-winning Service and support solutions is available in 164 countries, including ThinkVantage™ Productivity Center with unique self-help tools for 24/7 online support, as well as on-system support.
THINKVANTAGE TECHNOLOGY & DESIGN
ThinkVantage Technology and Design Features are distinctive innovations available on IBM Lenovo Thinkpad Notebook. They can Help enhance experience, boost Productivity, increase security and cut support and service cost. Here's a run down of some reasons everyone's next Laptop should be a Thinkpad.
Tough and Light
Take the new Top Cover Roll Cage for instance. In addition to the original hard disk drive magnesium roll cage, the new roll cage provides rock solid reliability with top to bottom protection. The new honeycomb-designed roll cage helps to cushion the laptop's LCD, reinforcing the screen and helping reduce stress on the display structure and Wi-Fi antenna. The new Top Cover Roll Cage reduces the stress on the LCD screen by 25% on average when the machine is dropped compared to previous ThinkPads. Combined with features like the 'air bag like' sensor of Lenovo's Active Protection System and a shock-mounted hard disk drive, the ThinkPad T61 provides one of the highest levels of physical protection in a system today.
Power
Powered by Intel® CoreTM 2 Duo Processor
The next generation of Intel® dual-core processors has arrived. The Intel Core 2 Duo processor offers up to two times the CPU performance on gaming and entertainment systems compared to Pentium M processor technology and up to 12% overall system performance improvement over first generation Intel Core Duo processor platforms
Multitasking on the Move
The Intel® CoreTM 2 Duo processor leverages two execution cores on a single chip to help increase your PC's ability to run multiple applications smoothly
Ergonomics
Best in Class Keyboard, The keyboard on Lenovo Thinkpad is designed with professionals in mind, Each key is firm and has excellent travel, and each key feels individual, the keyboard is solid with zero rattle and zero flex. The usability and ergonomics of the thinkpad keyboard is one of the it's unique features, IBM has done much research and exerted great effort to ensure this important feature is as good as it can be. Above the main keyboard are a few hardware buttons: the power button, volume up and down buttons, a mute button and the blue "Access IBM" button. The Access IBM button will launch an IBM software application called Access IBM that will guide you in using, protecting, configuring and updating software on your T61.
T61 Ultra Bay
ThinkPad T61 notebook include an integrated, easy-loading modular bay for fast swapping of Ultrabay optical and storage devices. Ultrabay optical and storage device let you tailor your ThinkPad notebook to meet your computing needs. The Ultrabay Slim, available on ThinkPad T61 enhances portability by supporting lighter, thinner 9.5mm device options.
The IBM Lenovo Thinkpad T61 internal swappable bay can be easily removed and replaced with other optional ultra bay devices, such as a second battery DVDRW multi recorder or a second hard drive.
T61 Mouse System
The IBM lenovo Thinkpad T61 series includes both a pointing stick and a touchpad centered in the wrist rest. There are four mouse buttons: two below the spacebar and two below the touchpad.
The Track Point navigation featuring a pointing stick, touchpad and multiple mouse buttons lets you choose your favorite way to navigate the cursor on the screen. The pointing stick makes it easy to get the cursor where you want it to go on the screen. when combined with the scroll button (located between the two upper mouse buttons) you can scroll through web pages and long documents with ease. Just hold down the scroll button and push the pointing stick up or down to scroll to where you want on a page
T61 Protection System
Like an airbag for your data
The Active Protection System (APS), available on many ThinkPad® notebook models, employs airbag-like technology to protect the hard drive. The system has an integrated motion sensor that continuously monitors the movement of the notebook, and, if a sudden change in motion is detected, it temporarily stops the hard drive to protect it from a potential crash.
This ThinkVantage Technology provides up to four times greater impact protection than systems without it and helps reduce down-time and support costs. APS can greatly improve overall system reliability by providing enhanced hard drive protection from shock. Using the latest technology to constantly monitor the movement of your ThinkPad computer, users can feel confident that their data will be better protected in the event of a drop or similar potentially damaging event.
T61 Superior wireless
Integrated Dual Ban WiFi

ThinkPad Series models offer a variety of integrated Wi-Fi wireless solutions, allowing you to experience the freedom of wireless networking when you're ready using one of the new Wi-Fi adapters. T61 notebooks are rigorously tested verify they'll work with other wireless products.
just one of the wireless performance features on ThinkPad T61 notebooks — is built into the display cover for optimal signal reception. This combined design supports 802.11b and G wireless to help maximize coverage and performance for improved wireless LAN connectivity around the world.
T61 Spill-resistant keyboard
Can stop a coffee spill from becoming a disaster
A simple accident with a cup of coffee could spell disaster for an ordinary notebook. But ThinkPad notebook keyboards are sealed and sit in a tray, so liquids are less likely to get through to damage the system.
| | |
| --- | --- |
| SKU | Lenovo-T61-T7300-2-160-16x9-Nvidia-xpp-Aminus-6M |
| Available in Showroom | 5 |
| Specs | Lenovo T61 |
| Processore | intel Core 2 Duo |
| Processor Model | T7300 |
| CPU Clock Speed | 2.0GHz |
| CPU Turbo Speed | No |
| CPU Benchmark by PassMark | No |
| Color | Black |
| screen size | 15.4 inch wide |
| screen resolution | 1600x900 |
| Graphics | Shared |
| Graphic card model | Nvidia 140 |
| Dedicated Graphics memory | 128mb |
| Memory | 2GB |
| Memory Type | DDR2 |
| Storage | 160GB |
| Hard Drive Type | SATA 7200rpm |
| Optical Drive | CDRW/DVD |
| Optical Drive Type | Internal |
| Wireless Lan | Wireless N |
| Bluetooth | Bluetooth |
| Ports | 1 Express Card Reader, 1 PC Card Reader, 3 USB 2.0, Audio in/out port, Firewire, Monitor port VGA, SD Card Reader |
| HDMI | No |
| Keyboard | No |
| Backlit Keyboard | No |
| Camera | No |
| Security | No |
| Power Adaptor | international 110 and 220V |
| Battery | 6 Cel |
| Operating System | Windows XP Pro |
| Software | No |
| Weight | 5 - 6 lbs |
| Dimensions | 11x15x2 |
| Condition | Refurbished A Minus |
| Warranty | 6 months (Laptopcloseout) |
| Warranty Type | All Part and Labor |
| Warranty Notes | No |
| Package Content | No |
| Resources and Files | No |
| Condition Detail | No |